True to its mission of being a leading competition in the sporting arena that also leaves a sustainable legacy to all the locations it visits, Formula E presented significant advances in its sustainability strategy.
The World Championship endorsed by the Fédération Internationale de l'Automobile (FIA) presented its Season 8 balance sheet,"Racing For Better Futures",which details the most impactful year to date in terms of emissions reduction.
The highlight of Season 8 was the launch of the Gen3 at Monaco, considered by fans to be the spiritual home of motorsport. It is the fastest, lightest, most powerful and efficient electric racing car ever built.
Related content: Formula E Strengthens Ties with DHL to Boost Sustainable Operations
Car Benefits
The single-seater is powered by electric motors that are substantially more efficient than internal combustion engines (ICE), which convert more than 95% of the electrical energy compared to approximately 40% in the high-efficiency ICEs of other motorsports.
In addition, the Gen3 has been compared to a "power plant on wheels" that produces more than 40 % of the energy it consumes in a race through regenerative braking.
According to Formula E, the Gen3 is the first formula car aligned with cycle thinking with a clear path to second life and end of life for all tires, broken parts and battery cells.
It is the first formula car to use recycled flax and carbon fiber in the body construction and all carbon fiber waste is reused for new applications. Natural rubber and recycled fibers make up 26% of new tires that are fully recycled after racing.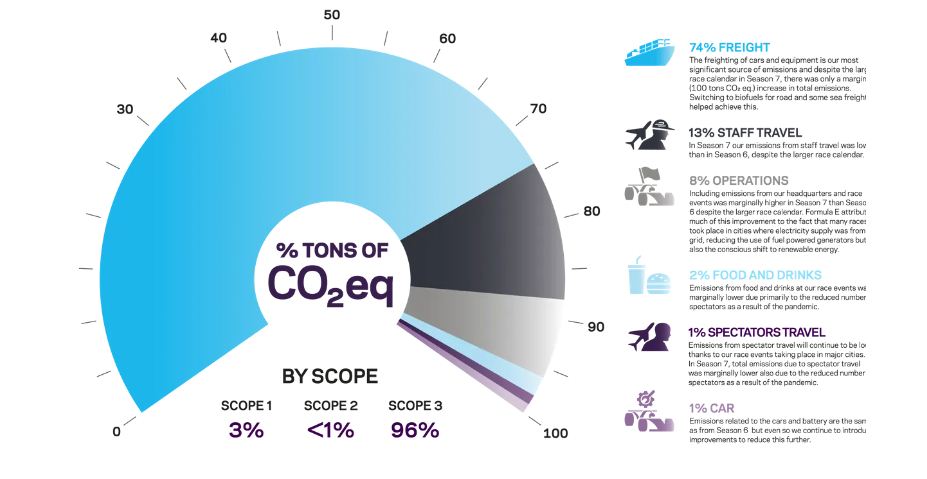 Achievements
The new report highlights more key social projects during the 2021-2022 period, including ongoing work through the charity partnership with UNICEF and its Safe and Healthy Environment Fund; FIA Girls on Track activations; and legacy projects at race venues that directly benefit the communities where races are held.
Key initiatives and commitments that benefit the planet are also highlighted, with an ongoing commitment to maintaining the championship's net zero carbon status from the outset.
Formula E was the first sport in the world to achieve such status and last season announced a 24% emissions reduction in the season 5 baseline, well above the science-based target of a 45% reduction by 2030.
The competition was also independently ranked and recognized as the world's most sustainable sport by Global Sustainability Benchmark in Sports (GSBS), in addition to maintaining the International Standard for Sustainable Events (ISO 20121) and the FIA's three-star level of environmental accreditation.